Infrared Heater Controls Guide
---
Infrared Heater Controls Guide
Infrared heater controls guide to help you make an informed decision or upgrade your existing installation. This document is offered as a guideline for buyer and owners of infrared heaters.  All the infrared heater products on our website have links to full specification, data and instruction information.
Infrared Heater Controls Guide
Basic: Plug heater into a standard 13amp socket or wire into fused 16amp outlet. Switch the heater On/Off  at socket/switch or via rocker switch on heater.  A standard socket on a correctly installed and fused ring main should be able to supply a 3kW load i.e 2 x 1.5 kW Tansun Sorrento heaters.  This type of switching does not benefit from soft start (see below for definition).
Smart Plug : Plug heater into Smart Plug. A smart plug can be switched via your smart phone, max power rating 2.99 kW. Very useful bit of tech, can also be paired with Alexa and Google Assistant. No soft start. Useful for many applications in the home & workplace.
 Timer switch: Push button control, great for pubs/hospitality settings. The control usually has a low wattage light to guide you to the switch in the dark, and waterproof IP66. Our timer switches will power up to 4kW of heater output, and have adjustable time lag settings from 2 minutes – 2 hours. Check out our Danlers Time Lag (2 – 20 minutes) or  for a longer time setting the Infresco push button timer switch. The Infresco timer switches provide "soft start" for quartz lamps which extends lamp life.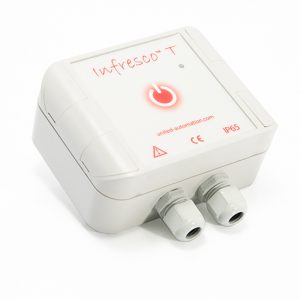 Coin Operated: Does what it says on the tin. Your customers/family pay the meter for heat! Call us for details – Coin operated meters cost approximately £175 – £200.
Thermostat controller:  2 part controller comprising a hardwired connector switch and a separate battery powered programmer. The programmer sends On/Off instructions to the switch wirelessly. The  Smart Thermostat Salus RT10RF  may be programmed to control the infrared heater for timed use, thermostatic temperature switching, with boost function and manual on off.  The programmer may be fixed to a wall or placed on any flat surface on a room.
Passive Infrared Switch: Infresco PIR 4kW or 6kW PIR controller, with soft start. The infrared heater is switched when movement occurs in range of  the PIR sensor.  The PIR infrared heater switch has smart functions – the infrared heater switches Off at given ambient temperature, switches On for a preset time period. The PIR switch is  designed to maximise the impact of the infrared heater to users whilst minimising the cost.
Remote Control (RC): some quartz heaters come with integrated remote control eg Herschel California, Herschel Colorado but the majority do not.  To operate your heaters by remote control a receiver is required, these have set power ratings eg 2kW, 3k,  and 6.5kW. The receiver receives the switching "signal" from the hand held device and switches the infrared heater On/Off, in addition there are mid range settings which is useful when less heat is required. It is necessary to match the receiver load with the heater load. Our 3 kW receiver the Quartzheat Eco control is  Bluetooth enabled allowing control via smart phone, manual switch and handheld device. The  Tansun 2kW & Tansun 6.5kW receivers are matched with the Tansun remote control handheld device. All RC receivers have soft start.
Guide to types of  USE for infrared heater controls
Pubs with outside smoking/ chilling areas are best with a timer switch / PIR/coin machine

Alfresco dining for Gastro Pubs/Restaurants – RC

Cafe, Tea rooms, with constant traffic- PIR/ RC

Workplace/Industry/Farm/Animals – PIR / Thermostat

Home use – PIR / Thermostat / RC
What is soft start: The power to the load (lamp) gradually increases over 2 to 3 seconds which reduces the high inrush current that occurs when the lamps are first switched on from cold. This potentially extends quartz lamp life.     
For more information regarding infrared go to Wiki Infrared