Heating in the workplace guide
---
Heating in the workplace guide – by Heat My Space, the UK's No.1 independent premium infrared heating supplier
For all our recommended Commercial & Warehouse Heating Products CLICK HERE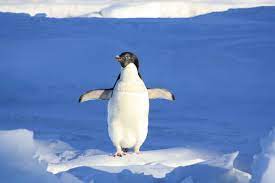 Penguin in fully insulated PPE outfit. Infrared heat absorbed from the sun before the days work of catching fish.
Simple Heating in the Workplace guide from Heat My Space for  employers & employees regarding Warehouse, Garage and Office heating.
When winter starts to bite owners and managers of offices, industrial buildings, garages and warehouses need to be prepared will disgruntled workers feel that the temperatures at work are too low. Employees have rights to talk to line managers, HR departments and employers where working temperatures are too low for work.
Heating in the workplace – Legislation & Code of Practice
The Workplace ( Health, Safety & Welfare) Regulations 1992 states that employers shall provide a "reasonable" temperature where employees work.
The HSE (Health & Safety Executive) subsequently decided to help employers interpret "reasonable" by issuing an Approved Code of Practice (L 24 (Second edition) Published 2013). This Code provides examples of temperatures in a range of different working environments as follows:
Minimum Temperature for Sedentary workers 16 degrees C – office workers/non physical activity
Minimum temperature for Active physical workers 13 degrees C – stacking/engineering/manufacturing etc
Where employers are complying with BSEN9241 or ISO 9241 the standard recommends for office work with visual display terminals and sedentary workers a thermal range of 19-23 ̊C.
The regulators accept the fact that some working conditions cannot be altered to fit in with the Approved Code eg working outside, cool stores, walk in freezers etc and in these cases employers should provide suitable personal protective equipment. But in regular work  environments where the temperatures are too low then employers need to do something about it – in fact there should be thermometers at work so employees can see for themselves what the temperature is in the workplace.
Heating in the workplace – Workplace assessment
The approved working temperatures may also be understood as Thermal Comfort. Assessments of the workplace may be undertaken to understand what are the 'ideal" temperatures for different work locations in a given workplace.
For example a manufacturing company will have a variety of work locations:-
Offices for sales, admin or design work will require 19 – 23 C – the heating in the workplace solution Herschel Select Ceiling Grid panel heater with smart thermostatic controls.
Production & despatch admin area adjacent to the manufacturing area will need 16C – the heating the workplace solution Herschel Advantage or Tansun Sorrento.
Manufacturing workshop 13C, external yard/goods in/out zones PPE , 13C  & 16C spot heating –  the heating in the workplace solution Tansun Apollo Range 1 – 18 kW,  Tansun Beaver or Tansun Spotter.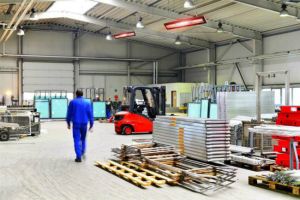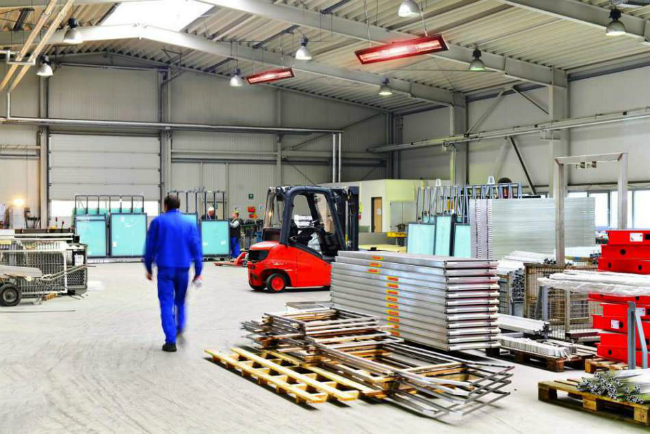 Heating in the workplace – Environmental variables to consider
What is the type of work undertaken – sedentary or physical
How much thermal insulation is installed
Does the method of heating or cooling emit fumes, gas or vapour to be injurious to any person
Are there thermostatic controls to manage the Air Temperature. See our smart controls guide
How is the working place temperature affected by Radiant Heat created by:-the sun, fire, electric heaters, ovens, kiln walls, cookers, dryers, hot surfaces, machinery etc
Is there excessive Air Velocity in the vicinity. This may cool workers in summer months, but wind chill in draughty parts of a building can cause serious worker discomfort.
What is the Relative Humidity, 40 – 60% is ideal. Too low causes dry, itchy eyes, runny nose & lethargy. Too high and workers have a reduced ability to self regulate temperature which could lead to heat fatigue and stress. Infrared heating heats objects and people, the radiating heat reducing condensation and maintaining an ideal RH.
Clothing Insulation – too much PPE/clothing can be a major contributory factor causing heat stress even in cool/cold temperatures. Equally insufficient insulated clothing in cold conditions could lead to hypothermia.
Metabolic Heat build up by individual workers – more physical work equals higher metabolic heat. Each individual will create heat according to age, weight, fitness level, etc. Maintaining a constant temperature is vital, individuals need to monitor their temperatures and adjust clothing as appropriate.
Call Heat My Space on 01590 615715 to discuss how we can help you with heating in the workplace. We are an independent business delivering infrared heating products throughout the UK.  Low capital cost electric infrared heating and maximum efficiency through smart controls. Time lag & PIR switching, app enabled controls, and full automation.
Warehouse heating from HeatMySpace
Office heating from Heat My Space
Workshop heating by Heat My Space